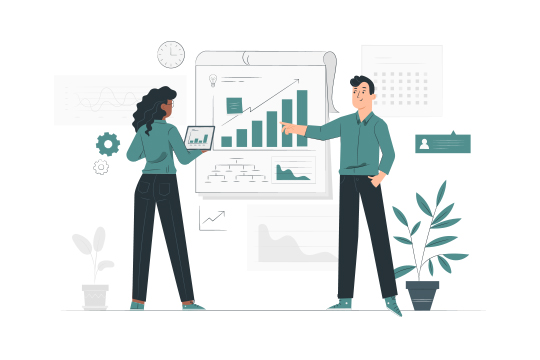 At Vedita Ventures, we offer a comprehensive range of services designed to address your organization's unique HR needs. Our solutions are tailored to align with your goals and objectives, empowering you to create an environment where your employees thrive.
At Vedita Ventures, we are passionate about revolutionizing the HR industry by shifting the focus from HR as mere resources to Human Relations. We understand that people are at the heart of any successful organization, and our mission is to unleash their true potential. With years of experience in the field, our team of HR consultants brings deep expertise and innovative strategies to help you build a thriving workplace culture. We partner with businesses of all sizes, from startups to enterprises, to deliver tailored solutions that align with your unique needs and goals.
Our experienced HR consultants provide strategic guidance and support to help you optimize your HR practices, develop effective policies and procedures, and foster a culture of employee engagement and well-being.
Finding the right talent for your organization is crucial for success. Our recruitment experts employ innovative strategies and industry best practices to identify, attract, and select top-quality candidates who align with your company culture and values.
In today's digital age, virtual HR services provide flexibility and efficiency. We offer virtual HR solutions that include remote HR support, employee onboarding, HR administration, and compliance management, tailored to meet your organization's specific needs.
Investing in employee development is essential for continuous growth. Our training programs are designed to enhance employee skills, improve leadership capabilities, and foster a learning culture within your organization. From soft skills training to leadership development workshops, we offer a wide range of programs tailored to your requirements.
Managing payroll and ensuring compliance with ever-changing regulations can be time-consuming and complex. Our experts provide end-to-end payroll management services, including payroll processing, tax compliance, benefits administration, and reporting, allowing you to focus on your core business activities.
Lorem dictumst vitae commodo sagittis consectetur mi, varius id gravida tincidunt faucibus.
Adipiscing id in lectus hendrerit mus in ut vulputate scelerisque fermentum.
Commodo sit in odio velit non lacus, rhoncus, commodo faucibus ac nec.
Turpis metus orci massa, praesent vitae eget purus pulvinar augue et est.
Porttitor nibh eget tellus sed odio diam sit ultrices sit enim viverra.
Risus tincidunt tempor, velit hendrerit cras neque adipiscing pharetra, vitae consequat.
Mus a pulvinar lectus cum ultricies nibh mi ac blandit phasellus porttitor.
Orci vestibulum, massa morbi eu nec ultrices integer nulla feugiat morbi.

"Justo vestibulum risus imperdiet consectetur consectetur pretium urna augue etiam risus accumsan volutpat urna, eu semper enim, est aliquam laoreet urna fringilla viverra."
Daniel Johnson

"Ullamcorper enim at amet eget faucibus morbi ornare feugiat posuere blandit donec sit quis lectus eget faucibus scelerisque duis."
Julia Michele

"Semper duis tellus orci nulla nibh elementum purus, pretium facilisi vel eget amet, diam lacinia tempus tristique euismod viverra fusce risus euismod amet."
Robert Green

"Vitae erat pretium, interdum et, massa, nunc rutrum at lectus lectus aenean etiam nulla nibh ipsum commodo eu nibh scelerisque pharetra, sem netus risus."
Oliver Goodman